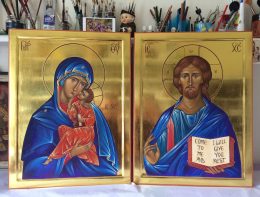 On the occasion of the patronal festival of All Hallows, 4th November 2018, this pair of new icons were blessed and installed by Bishop Peter Wheatley (retired). The Dean of Hereford, Michael Tavinor, gave the homily.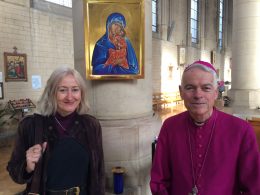 The icons were commissioned by Fr David Houlding as part of a major project to create a new main entrance area for this large church. The icons were designed to face the huge new glass doors at the west end as a sign of welcome. The Mother of God icon was further designed to be a memorial icon for Diane Clover, who had worshipped at All Hallows for many years.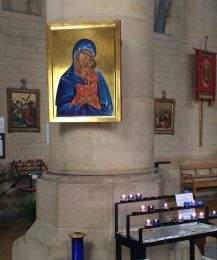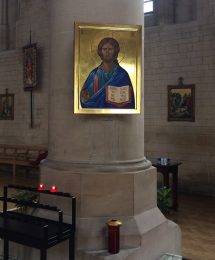 Both icons are original designs (in the Russian tradition) with the blue colour of the robes creating a visual link to the dominant blues of the stained glass of the east end windows.