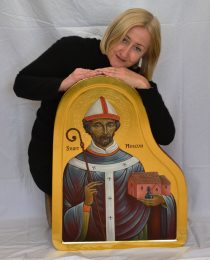 The icons and devotional images featured on this website are the work of professional British artist and iconographer, Helen McIldowie-Jenkins.
"Since the early 1990s, I have undertaken numerous commissions for cathedrals, churches, organisations and individuals in the UK and US . I am now based in West London.
Commissioning churches and organisations include Bristol Cathedral, Chelmsford Cathedral, Wymondham Abbey, the English College Rome, the Anglican Shrine of Our Lady of Walsingham, the Turf Club at Pall Mall, St Mary's Church at Harrow on the Hill, Holy Trinity Church at Cuckfield, All Hallows Church at Gospel Oak, The Oratory of Cardiff University Chaplaincy  and several chapels of the Woodard School Corporation. I have also delivered numerous bespoke commissions for private clients from the UK, USA and Australia.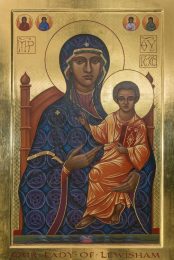 Unlike other icon painters, I mainly specialise in composing 'new' and original icons to meet the artistic needs of today's church in terms of devotional art. The subject matter can range from saints of the early church (where no prototype image exists) to images more appropriate for use within today's diverse and multicultural faith communities.
In addition, I continue to write archetypal Byzantine and Russian icons and study the tradition, in terms of both art historical and practical research, particularly with the Russian Schools.
I have designed icons and painted in tempera since childhood and have developed my practice with the generous help and tuition  of tutors and experts (mainly in the Russian tradition) and with Orthodox and Roman Catholic spiritual guidance.
In the pursuit of my quest to understand icons and the transmission of iconography, I have travelled to many parts of Greece, Istanbul, Moscow and St Catherine's Monastery, Sinai. My ongoing study of Italian Late Medieval panel painting (specifically 13th -14th century Franciscan painting) continues to take me regularly to central Italy."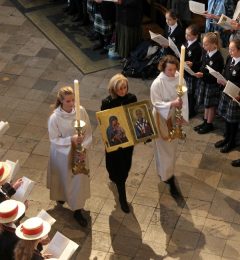 Background In addition to a Fine Art diploma (St Alban's College of Art & Design) and a fellowship to the Digswell Arts Trust (Fine Art & Ceramics) and a teaching qualification, Helen holds a first class BA Honours degree in Art History and was awarded an MA scholarship by the Edmund J. Safra Foundation to the Courtauld Institute of Art, London. Her MA dissertation investigated an unusual form of 13th century Italian crucifixion iconography.
Helen has a Roman Catholic background and a Secular Franciscan (OFS) formation and is a member of the Society of Catholic Artists (SCA) , ICM and MAA.
For many years Helen worked in the London art auction world  as a Cataloguer in the Russian Icons and Work of Art department at MacDougall Arts (the leading Russian Art Auction House) and at Christie's Auction House. 
Helen has worked in museum and adult education environments (teaching History of Art /Late Medieval Italian Painting). Most recently, Helen designed and delivered a highly successful course  on Sienese art of the 14th century ('Miracles & Madonnas') for Open Age, a London-based charity providing courses for the third sector. She currently delivers online history of art lectures to art groups and societies on aspects of late medieval Italian art ad iconography.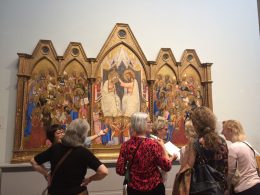 Icon Painting Retreats Helen leads unique residential icon painting retreats annually in Assisi and Walsingham .  An art history tour to Siena has now also been added to Helen's Icon Adventures retreat destinations. The retreats are suitable for all abilities (beginners and improvers) and provide a comprehensive painting course and pilgrimage experience that have been enjoyed by clients form all over the world.
Please visit the sister website www.iconadventures.co.uk for current course availability and further information – or telephone +44 (0) 203 673 6417.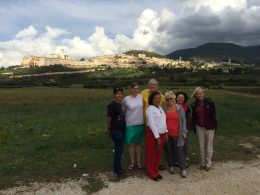 Art + Ministry Parish Workshops This innovative outreach project will be launched in 2019 with the aim of providing a day retreat of sacred art along with individual spiritual support (provided by the parish clergy) to those parishioners who would most benefit from such an event. The workshops would need to be funded by the parish as part of outreach work. If your parish might be interested in offering this, please get in touch: 0203 673 6417 or email:  helen@elenisicons.co.uk
School Residencies & Workshops Helen also provides Icon Painting  Workshops for schools for pupils from Yr 5 upwards, of either half or a full day, as well as longer residencies .  Pupils are provided with the specialist materials and can expect a fun and engaging 'make & take' session.  Please email or phone for further information.