The images featured on this website are the work of professional British artist, iconographer and educator, Helen McIldowie-Jenkins.
Since the early 1990s, I have undertaken numerous commissions for cathedrals, churches, organisations and individuals in the U.K, U.S. and Australia, taught icon and medieval panel painting and lectured on icons and Trecento art.
These days I am based in West London; my particular field of study in terms of academic research, artistic practice and spirituality is Franciscan and late medieval Italian art of the Duecento and Trecento. These aspects of art history are central to my  lecturing with The Arts Society.

Commissioning churches and organisations include: Bristol Cathedral, Chelmsford Cathedral, Wymondham Abbey, the Venerable English College Rome, the Anglican Shrine of Our Lady of Walsingham, the Turf Club at Pall Mall, St Mary's Church at Harrow on the Hill, Holy Trinity Church at Cuckfield, All Hallows Church at Gospel Oak, The Oratory of Cardiff University Chaplaincy  and several chapels of the Woodard School Corporation.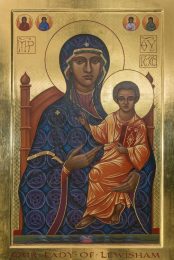 Approach: I mainly specialise in composing original and contemporary  images to meet the artistic needs of today's church in terms of devotional art. The subject matter can range from saints of the early church (where no prototype image exists) to images more appropriate for today's diverse and multicultural faith communities.
Practice: I have designed icons and painted in tempera since childhood and developed my practice with the generous help of iconographers, mentors and experts from the Russian Orthodox tradition (notably the UKs first contemporary icon painters from St Seraphim's Brotherhood, Walsingham). My quest to understand sacred art has taken me to numerous places in Greece and Italy and important 'hubs' of transmission: Siena, Assisi, Istanbul, Moscow – and of course, St Catherine's Monastery, Sinai.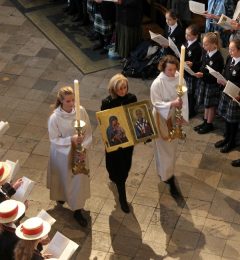 Background: Graduate  of the Courtauld Institute (M.A. 2007, Edmund J Safra Scholarship), Open University (BA Hons 1st Class 2006), Adult Education Teaching Qualification, Fellowship Digswell Arts Trust, Fine Art Diploma (St Alban's College of Art & Design).
Organisational membership: Secular Franciscan (OFS), ICMA, MAA and Society of Catholic Artists. 
Experience: I have worked in museum and adult education environments and for many years, as a Cataloguer of Russian Icons and Works of Art in the London art auction world for MacDougall Arts (the leading Russian Art Auction House) and Christie's.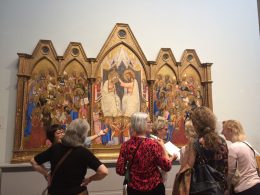 Icon Adventures : Please visit my sister website www.iconadventures.co.uk  for details of upcoming online courses and updates on residential retreats to Assisi and Walsingham. The retreats are suitable for all abilities and provide a comprehensive painting course and pilgrimage experience that have been enjoyed by clients form all over the world.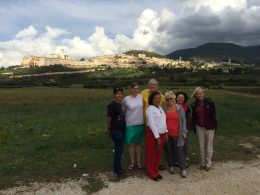 Art + Ministry Parish Workshops: This innovative outreach project was launched in 2019 with the aim of providing a day retreat of sacred art along with individual spiritual support (provided by the parish clergy) to those parishioners who would most benefit from such an event. These one or two day workshops usually form part of parish outreach work. If your parish might be interested in offering this resource, please get in touch via the contact page.