The images featured on this website are the work of professional British iconographer, Helen Dejean.
As one of the few contemporary professional iconographers in the U.K whose practice dates back to the early 1990s, I am unusual in also being qualified to teach adults, lecture in art history and offer independent consultancy.
Update: For many years, I worked under my maiden name; Helen McIldowie-Jenkins – which I've now traded in for my spouse's much easier name!

Through my business 'Elenis Icons', I have undertaken numerous commissions over three decades and continue to do so, along with technical consultancy, anaylsis and evaluation on antique and contemporary icons.
Commissions outside of the UK include the Venerable English College, Rome; New Brunswick Cathedral, Canada as well as several American and Australian churches ranging across the Orthodox, Catholic and Anglican confessions.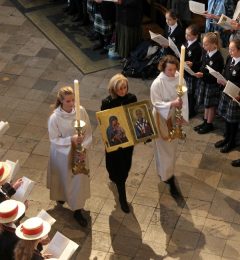 UK commissions include: Bristol Cathedral, Chelmsford Cathedral, Wymondham Abbey, the Anglican Shrine of Our Lady of Walsingham, The Turf Club, St Mary's Church at Harrow on the Hill, Holy Trinity Church at Cuckfield, All Hallows Church at Gospel Oak, The Oratory of Cardiff University Chaplaincy, St Luke's Church at Woodside and several chapels of the Woodard School Corporation.
In addition, I have produced bespoke works for a large number of parish churches and private individuals worldwide and increasingly undertake clerical portraiture, often of some very eminent individuals.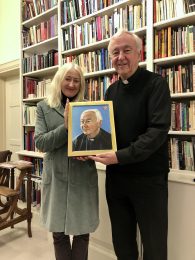 In terms of my art practice, I have painted icons in tempera since childhood and have developed my practice with the generous help of iconographers, mentors and experts from the Russian Orthodox tradition (notably the UKs first contemporary icon painters from St Seraphim's Brotherhood, Walsingham). I have conducted field research at St Catherine's Monastery, Sinai; Rome, Siena, Assisi, Istanbul and Moscow.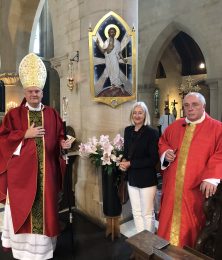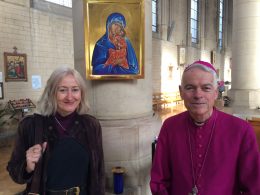 Today, my approach is to compose original and contemporary images to meet the artistic needs of today's church in terms of devotional and liturgical art. The subject matter can range from saints of the early church (where no prototype image exists) to images more appropriate for today's diverse and multicultural faith communities.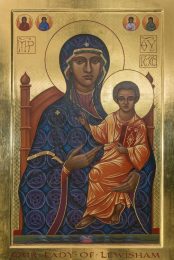 As an Accredited Lecturer with the Arts Society, I regularly lecture on Byzantine and Trecento art to its membership bodies across the UK, as well as for other organisations, which have included the Courtauld Gallery, private Arts Societies and Heritage Lottery funded projects.
Though my second website, www.iconadventures.co.uk I design and deliver icon and medieval panel painting courses in person and online. To date, I have successfully provided quality courses in some amazing locations. I am proud to have been the first person to have provided site-specific courses in situ at St Catherine's Monastery in the Southern Sinai (from 2009) and in Assisi, Italy (from 2012).
In 2020, I launched 'Icon Adventures Online', providing tuition via video and zoom seminar platforms that enable wider participation and affordable learning. These unique courses are professionally produced to a high standard and uniquely combine practical painting with art historical contextualisation.
Currently, I am based in West London and pursuing my PhD studies at the Courtauld Institute. Whilst my field of postgraduate research is divine encounter in Byzantine art, I am also strongly interested in 13th-14th century Italian painting, particularly in relation to intersection of the Latin West with Byzantium through pilgrimage, the Crusades and the Franciscan Order.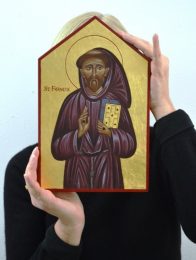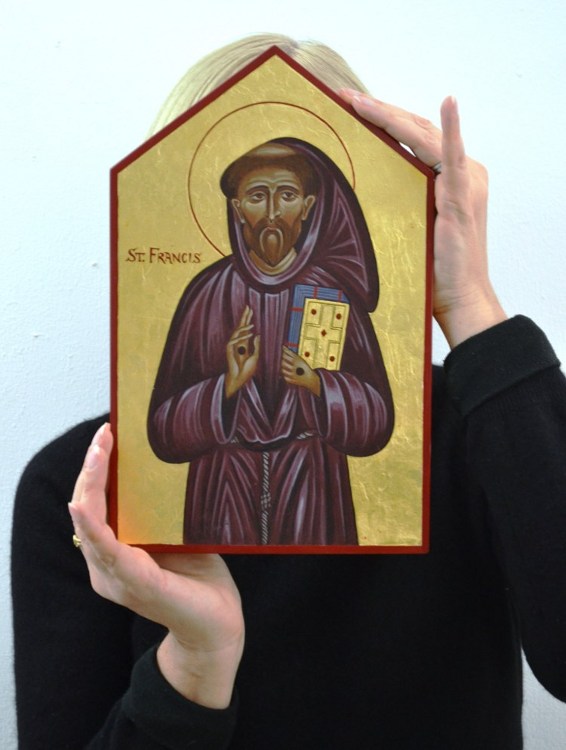 Qualifications
Courtauld Institute of Art, History of Art MA 2023 'Byzantium and its Rivals'
Courtauld Institute of Art, History of Art MA 2007 'Sienese Painting 1250-1350'
City & Guilds Adult Teacher Training (1989)
Digswell Arts Trust, Fine Art & Ceramics Fellowship (1983)
St Alban's College of Art & Design, Fine Art diploma (1982).
Professionally, I have worked across many areas of the art world and accumulated a wide range of skills in educational, museum and auction house sectors. For nine years until 2019 I worked as a Cataloguer of Russian Icons and Works of Art for MacDougall Arts – then the leading Russian art auctioneers – followed by a stint at Christie's.