Commissioning a bespoke icon for your church, home or loved one will not be an instant process – but it is easy.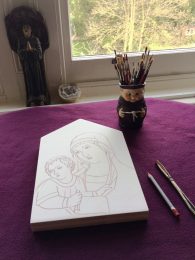 Get in touch. Just use the contact page or phone 0203 673 6417 to tell me your ideas. I'll advise as to what I can create for you, the cost and time-frame.
Approve or amend the design. A simple draft design will be sent within a few weeks. Formal design packages for approval bodies can also be provided. A deposit may be required to start the work.
Await the finished work. Photos of the completed commission will be emailed along with the invoice. Having received payment, the work will be delivered to you via  a priority parcel service.
A note on the materials: the panels are beautifully made to order from linden wood with gesso preparation. The gilding is 23ct gold leaf (matt or burnished) and the paint is egg tempera. In other words, the same traditional materials used in late medieval panel and icon painting.
Things to consider: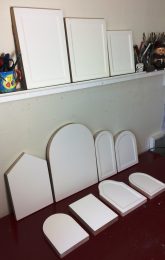 Panel size (nothing smaller than 23 by 18 cm/7 by 9 inches please)
Panel shape (rectangular, arch-top, flat or with an integral raised kovcheg border?)
Subject matter and number of figures
Depiction (if single figure): 'Above the Shoulder', three-quarter, full-length?
Amount of gilding (background and borders / halo only)
Location (home or church etc)
Date/occasion  required and dedicatory label (if a gift or presentation)
International enquires welcome.