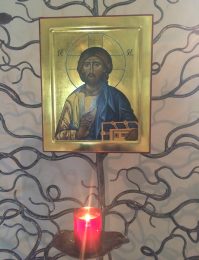 This icon, after the famous deisis mosaic at the Haghia Sophia, Istanbul, was especially commissioned for a new prayer corner at Holy Trinity Church, Cuckfield, West Sussex. The icon has been gifted by a local family who have worshipped at the church for many years.
The  free-standing candle 'Tree of Light' upon which the icon is mounted, is a bespoke commission by the Oxfordshire-based artist and metal worker, Christopher Townsend.
This new and unique installation has been sited in the south aisle to form a new and beautiful prayer space in this beautiful church which dates from the 12th century. The Tree and Icon were blessed by Archdeacon Fiona Windsor of Chichester Diocese, during a special service for the dedicatory feast of Holy Trinity.