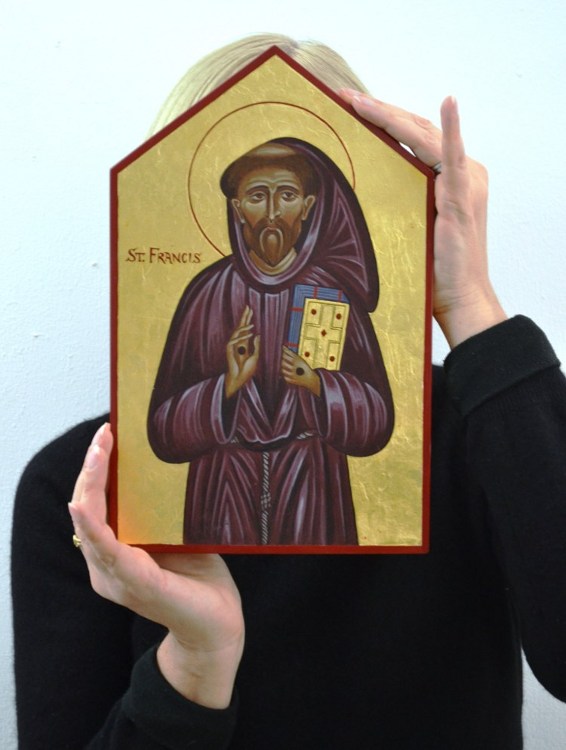 This image of St Francis is taken from the famous 'Bardi Dossal', the massive gable-topped Vita panel in the main Franciscan Church of Santa Croce, Florence and is often attributed to Coppo di Marcovaldo, circa 1263.
It was one of the earliest Vita panels in Europe to depict a full-length saint, surrounded by 20 scenes from his life and post-mortum miracles. (The format being based on Byzantine models such as the Vita icon of St Katherine of Alexandria, St Catherine's Monastery, Sinai.)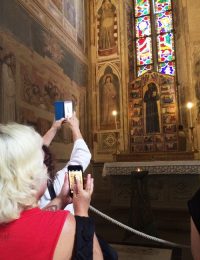 Previously, only Christ had been shown in such a way, which confirms Francis's role as alter Christus. It is thought that the Bardi Dossal influenced the subject matter and iconography in some of scenes from the St Francis Cycle in the Upper Church of the Basilica di San Francesco, Assisi.
This panel was painted in Assisi as part of a 12-day icon painting pilgrimage based in the historic centre of Assisi.
For dates of upcoming retreats in Assisi 2018, please visit the sister website: www.iconadventures.co.uk