A Franciscan Cross?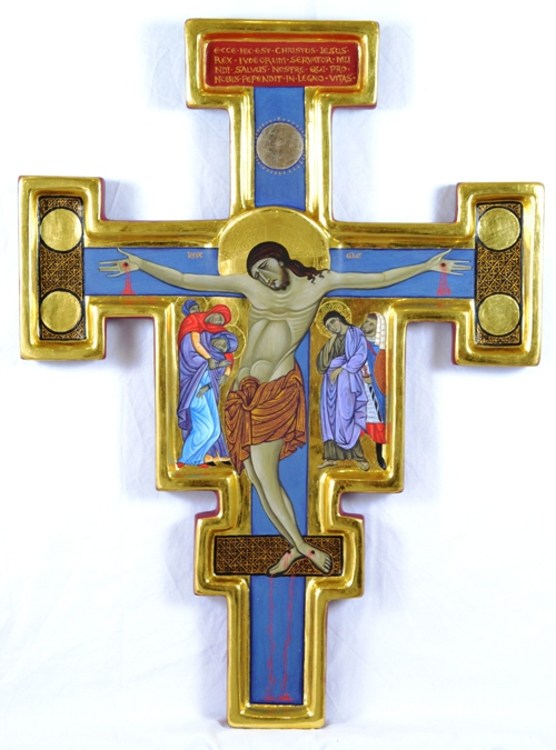 The figures are a distinctive fusion of the Byzantine and Romanesque in their mix of elegant, flowing forms with more abstracted stylisation, and typical of late 13th century painting in central Italy. The corpus is the emotive Christus Patiens type; a form which provided the evangelising Friars of the 13th and 14th century with a potent preaching motif on Christ's humanity and transcendence of death.
The 'three Maries' on the  left of the apron form a uniquely lyrical group , with the Magdalene supporting the 'Swooning Virgin' as she collapses at the moment of Christ's death. Opposite is the grieving Evangelist John, who in his turn, will care for the Virgin. Behind John, stands the Centurion, depicted at the moment he recognises Christ.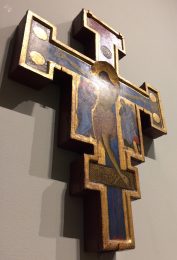 The function of this type and size of crucifix (croce dipinte) was probably two-fold; originally double-sided, the piece would have been carried in a procession (e.g. on Good Friday) and at other times, venerated on a chapel altar. The uppermost roundel, as seen in the original , may have contained a relic of the True Cross.
The Master seems to have produced several very similar crucifix (another example being in the collection of the Louvre) and must have had a workshop based in the Perugia/Assisi area, judging by the surviving works attributed to him. His notable works being the unique fresco cycle paralleling the lives of Christ and St Francis in the lower church of the Basilica di San Francesco, Assisi and the monumental crucifix  (signed and dated 1272) painted for San Francesco Al Prato, Perugia (now in the collection of the National Gallery of Perugia).
Whilst the 'Master of St Francis' is known to have worked for the Franciscans in their most important Umbrian churches, it is not known if this particular crucifix was likewise intended for the friars use. Therefore it should be acknowledged in the light of scholarship, that this piece, along with other works, are not necessarily 'Franciscan'*.
———————————————————————————————–
* Bordua, L., The Franciscans and Art Patronage in Late Medieval Italy, Cambridge, 2004 and Bynum, C.W., 'Fransciscan Spirituality: Two Approaches' Medievalia et Humanistica,Vol.7 1976, pp. 195-197.
Bomford et al, Art in the Making, Italian Painting before 1400, Yale University Press, 2000, Catalogue No.1, pp. 54-63.