Doctor of the Church, Benedictine monk, Abbot, Philosopher and Theologian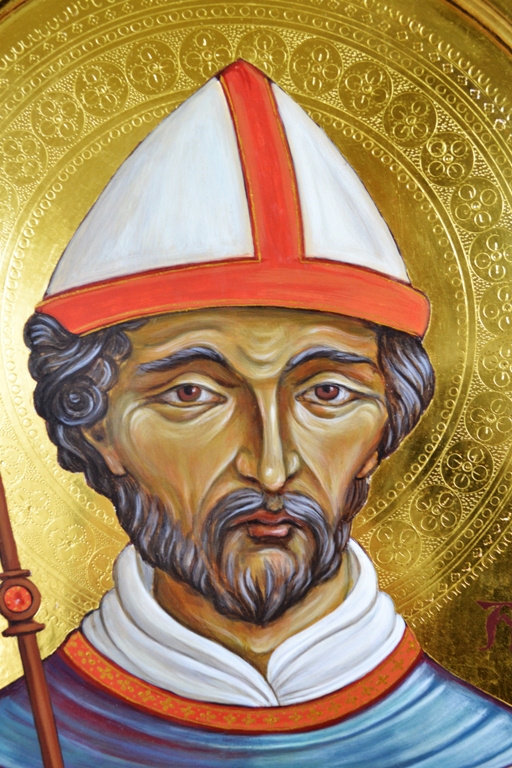 St Anselm was born in 1033 at Aosta, Italy. He arrived in England in 1070 to undertake the Gregorian reform of the church and align it with the papacy. He held office as the Archbishop of Canterbury from 1093 until his death on 21st April, 1109. His tenure was not without controversy between himself, the King and the Pope, with two episodes of exile in 1097 and 1105.
St Anselm and Harrow on the Hill
In 1094, St Anselm consecrated the Saxon chapel dedicated to St Mary on top of the hill at Harrow. This icon was commissioned to occupy a new prayer space dedicated to the church's founder in the South Transept.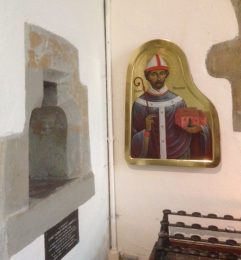 The unusual panel shape was designed to fit with the extant irregular stonework around the window.
The saint holds the crozier of office and carries a model of the church he founded (based on a reconstructed image by Dan Secker). He also holds a small phial of holy oil. This very specific motif refers to the legend that on the day of consecration, a spy working for the Bishop of London (Anselm's clerical rival), stole the Oil of Chrism that was to be used for the occasion. However, the thief was unable to leave the site and found himself miraculously immobilised, enabling the theft to be exposed and the consecration to proceed.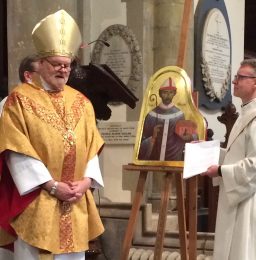 In January 2017, the current Bishop of London, Dr Richard Chartres, blessed the icon at St Mary's and anointed it with holy oil.