The following description was written for this website by the commissioning party.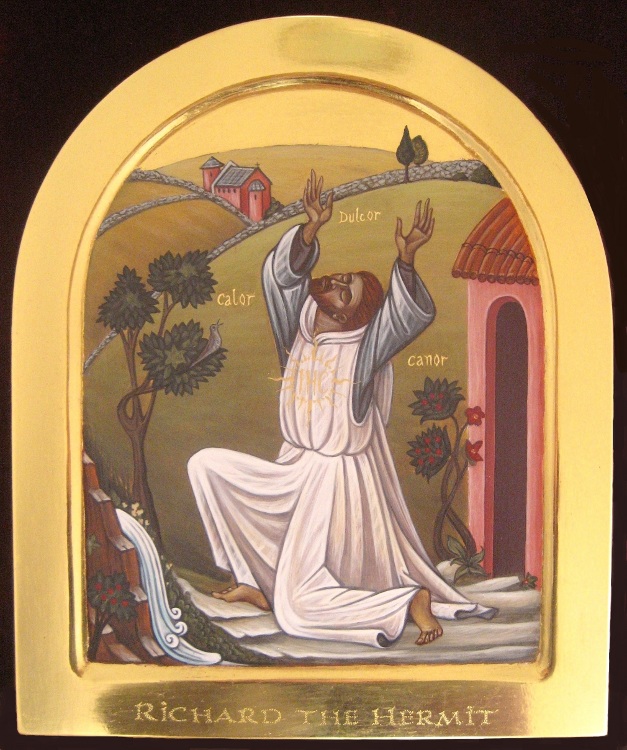 'This Icon was commissioned by the Parish Church of All Saint's, South Kirkby. This beautiful medieval church is close to the site of the ruins of the Cistercian Monastery, where Richard Rolle was chaplain and spiritual guide to the nuns.The then Vicar of South Kirkby felt that an image of Richard should be in the church, where no doubt the saint had prayed in life. A great deal is known about Richard, both from autobiographical detail in his writings but also from the Legenda compiled by the nuns of Hampole to promote his canonisation (which ultimately did not proceed).
Richard Rolle, Spiritual writer, religious guide, hermit and fervent hearer of the Songs of Angels, spent the final years of his life near Hampole, Doncaster. He was a Yorkshireman born in the village of Thornton le dale near Pickering. Among his many works, the most well known is The fire of love, available in the Penguin classic series.
In the icon, Richard's robes are grey, with a white over cloak. This is a reference to how he first made a tunic for himself from his sisters white and grey robes. His hands are uplifted in an ecstasy of prayer, totally absorbed in the love of God.
In the distance we can see the stylised Convent of Hampole. We can also see some Yorkshire dry-stone walling. To Richard's left is his hermits cell. On a bush near Richard is a nightingale;
" The soul that is in the third degree is all burning fire, and like the nightingale that loves song and melody and fails for great love, so that the soul is only comforted in praising and loving God"
Physical sensations were part of Richard's experience of God, in particular "Calor, Dulcor, and Canor" (heat, sweetness and song) and the sacred monogram, IHS appears over Richards heart in the centre of the icon.'